Battling Back Against Chronic Illness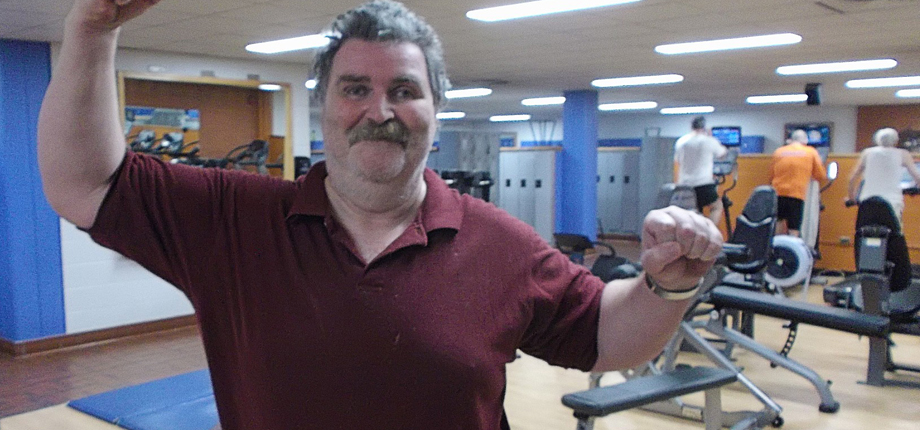 When John Black was diagnosed with multiple sclerosis 20 years ago, he fell into a depression. At 6'2" and 250 pounds, he started gaining weight, eventually reaching almost 580 pounds.
After a few years, John decided enough was enough and he joined the Hamilton Downtown Family YMCA. A trained chef, John started to create healthier recipes. Between eating more healthfully and swimming regularly at the YMCA, he was able to lose about 100 pounds. Then John decided to hit the gym. His doctor prescribed him a number of exercises but told him he required supervision during the workouts, as MS can cause stiffness, involuntary muscle contractions or muscle weakness.
Nine years later, John is a fit 275 pounds. He can lift the maximum weight on the leg machines and 200 pounds on the arm machines. He sees his personal trainer every Wednesday and swims one to two times a week. John also participates in LiveWell, which provides health care programs at the YMCA for people with chronic health conditions in partnership with Hamilton Health Sciences and McMaster University. John does Hydrotherapy, which involves rehabilitative exercises using a variety of equipment like water weights or flotation belts. He also sees a massage therapist at the Y.
"I do have limits because of my MS, but the YMCA basically saved my life. The staff is phenomenal. I can't say enough about how much they have helped me," said John, who is 56.
YMCA personal trainer Ben Devine-Bloomfield gives much of the credit to John.
"I can honestly say it is John's iron will and refusal to quit that has led him to have lost more than 200 pounds," says Ben. "Over the course of the last few years, I provided John with encouragement and kept him accountable to always showing up to our sessions. Beyond that, I can honestly say I really didn't do all that much. John's warrior spirit and refusal to give up allowed him to put forth the effort to fight back against his disease and make the healthy life choices he needed to make."